SPECIAL PROGRAM SURVEYS
If you attended one of "Hoo" Haven's Programs and you were asked to participate in a survey please click the picture below that represents the Program you attended.
| | | |
| --- | --- | --- |
| | | |
---
PROGRAMS

---
This is "Captain Jack's first official program It was great. We have another one today.

Captain Jack is awesome and is doing a great job. I am honored to show USA's National Symbol and he is a beauty.

Karen
Hoo
---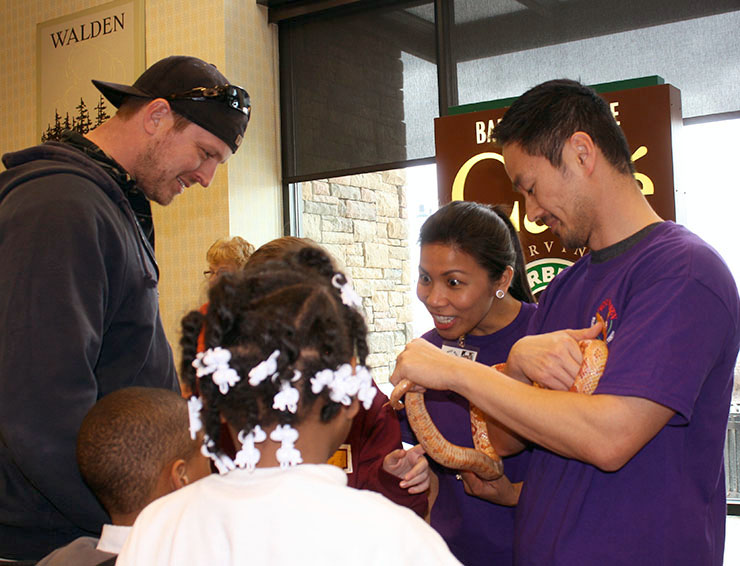 ---
Programs Program Programs
Book your programs early so you can get the date you want. We still have some Grant slots available but they are going fast. Pelicans, Hawks Owls Turkey Vultures and more. It does not matter if you are young or old, in school or ANY group, we do programs for all. Please remember we are 100% volunteer and donation run so the program fee is one way we support ourselves. Thank you.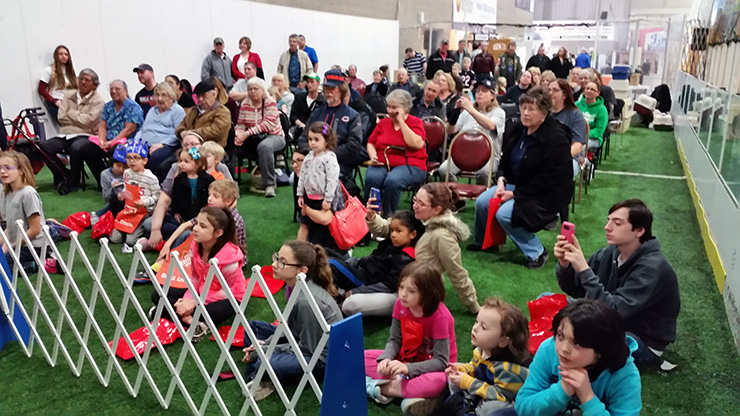 ---
Rockton Grade School


---
Mt. Morris Senior Citizens - Witches High Tea Party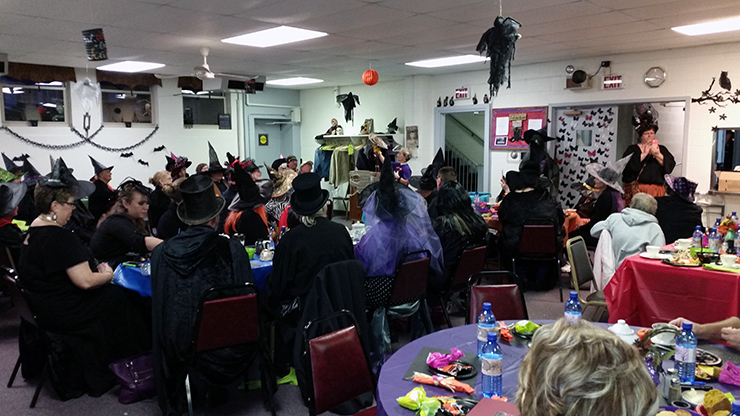 ---
Remember we do programs for all groups young or mature anywhere. Whether you are scouts, retirements facility, church, clubs or anything in between.
If you want to learn how to help Mother Earth, you would love to see Raptors up close and more call 815-629-2212 and leave a message and number for Karen to call you in the evening.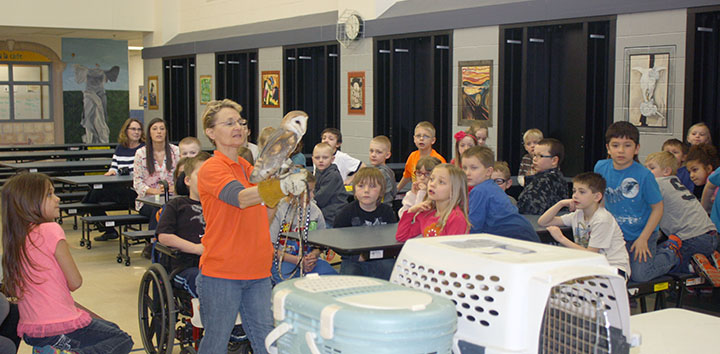 ---

I am so excited. We have started to do a more Men and ladies clubs along with the schools. We love doing programs and I am told it shows. Between the birds, snakes and excitement of all of us our programs are crowd pleasures.
We have even started to do Birthday parties with special arrangements.
---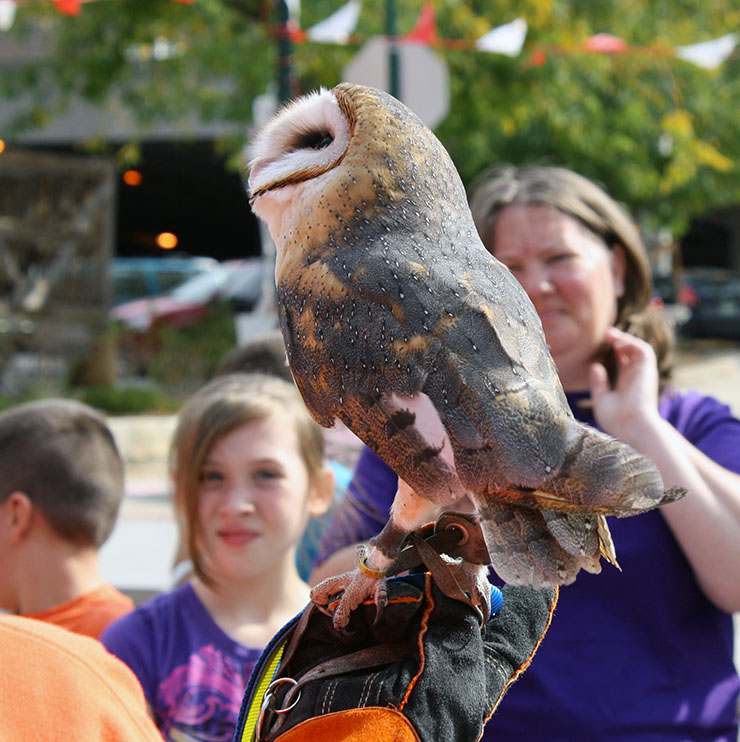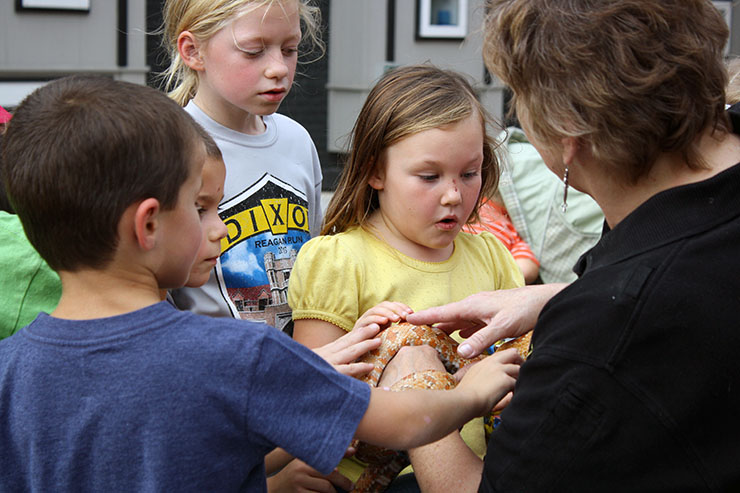 ---
The Children working with Owl Pellets. Look at the interest in what they are doing.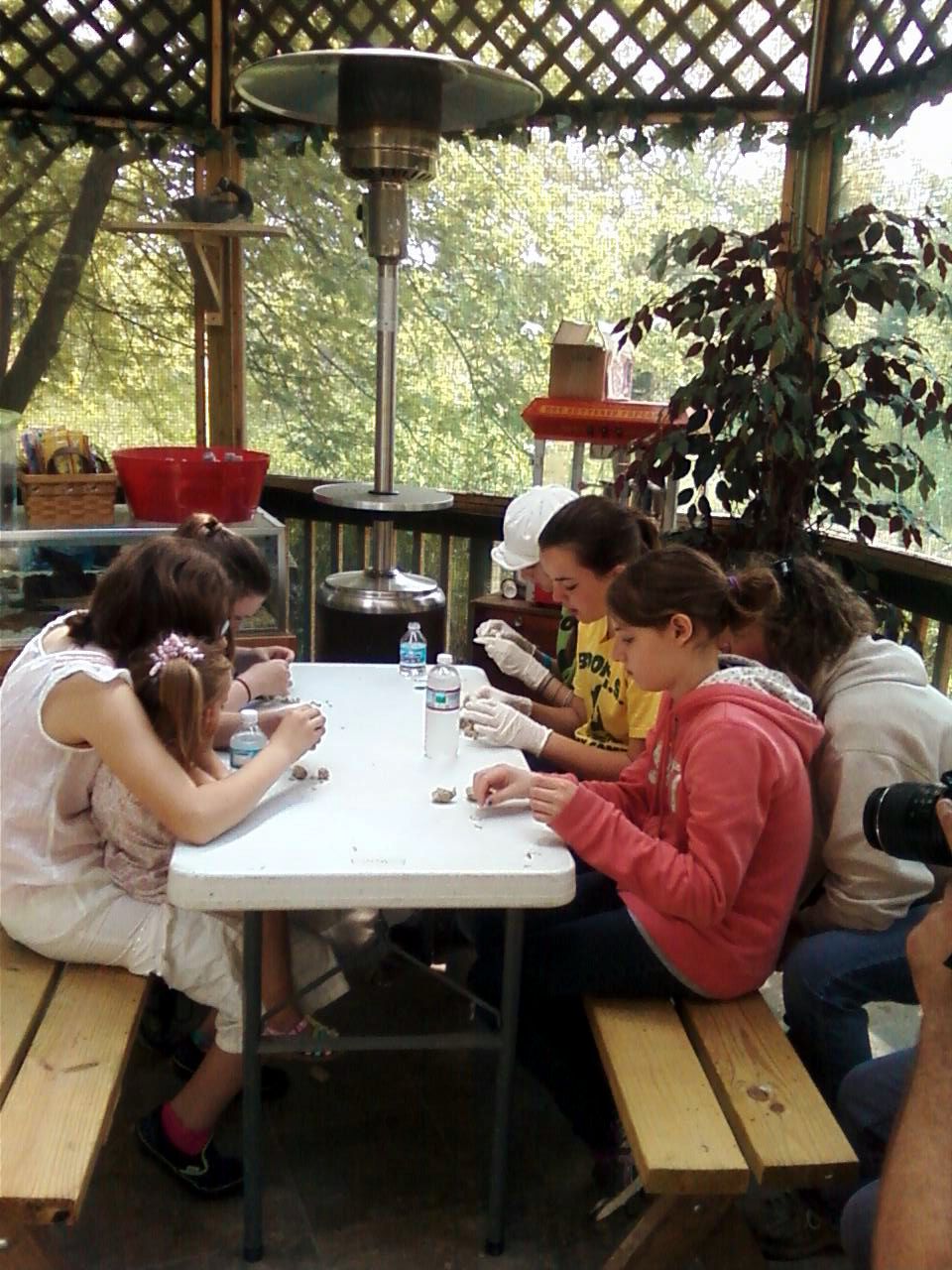 ---
"Hoo" Haven offers educational presentations with live birds of prey for groups and organizations.    We bring our goodwill ambassadors, visual aids and interactive displays for a fascinating and entertaining presentation

It is fun to bring hands on items, live birds and mammals, and then to watch people marvel at seeing them for the first time with an explanation and in good view. 
One of our favorite parts of the program is doing raptor pellets. Watching the reactions at the beginning and then at the end.  Oh how they change.
So that we may better serve the animals and birds that we care for, we try to go to three classes a year for new updates and in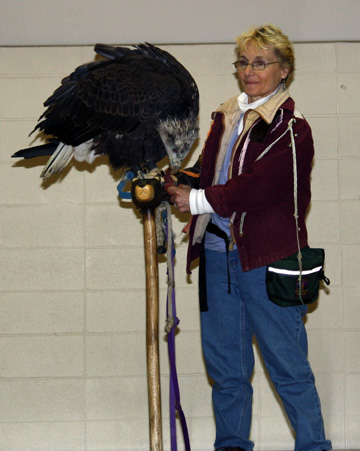 formation. This year we went to World Bird Sanctuary in St. Louis and learned more about programs, rehabbing and taking care of the raptors we have.  It was wonderful.  A lot of hands on training and in small groups.
We also took a technical class in
Milwaukee.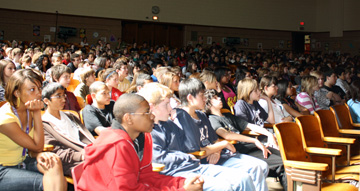 One must forever keep learning and keep an open mind.  We always want to do the best we can for all the cares involved.
If any school, scout group, businesses, church or any organization would like to find out about the programs they need only to call 629-2212 and leave a good number where they may be reached in the evening for me to call.
ROCK VALLEY COLLEGE REHAB CLASS

Once again we have been asked to teach the Wildlife Rehabilation Class at Rock Valley and Kishwaukee College.  Steven and I tag team as we always do and the classes are a lot of fun.  All the students would like the classes longer but for now this is not possible
---
EDUCATION FOR ALL
If anyone knows me they know the importance of education to me and reaching the hearts of all.
If you save one animal or bird you have done well, but teach others how to do their part and you have saved many.
We do educational programs in Wisconsin and Illinois and have done many this year.  I am pleased to say the requests keep coming in.  We are now booked two months in advance.