---
THE STORY OF "RUFFLES"
In October 2005, two Illinois Department of Natural Resources Officers rescued a juvenile American Bald Eagle from a lake near Streator, Illinois. She was immediately seen by a veterinarian who drew lab tests and thought she had cancer because of a large tumor on one wing. The U.S. Fish & Wildlife Service officers were contacted and they requested that "Hoo" Haven take her. Steven Herdklotz of "Hoo" Haven immediately made the trip to bring the young eaglet back to the facility.
At Hillcrest Animal Hospital in Rockford, IL avian veterinarians discussed options for treating the bird. Fortunately, the biopsy of the tumor showed that it was not cancer and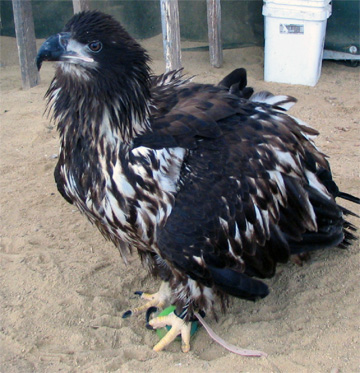 they agreed that based on her large wing span, surgical removal of the mass would be the best treatment option. However, she would never be able to fly. She had a major infection which required a three month course of strong antibiotics. Too weak to eat on her own, she was force-fed and housed in our bathroom where she would be very warm during her recovery. After three weeks, we started to notice positive changes in her behavior and for the first time she ate food offered to her. We were ecstatic! She continued to regain her strength and enjoyed taking baths in the bath tub. We were blessed with an Indian summer that provided temperatures in the 50s for over the next two weeks. She was able to successfully transition to the outdoor exercise pen and continued to improve daily.
After many exams from the vet, it was decided she was well but un-releasable. She would be unable to fly well enough to survive in the wild. We applied to the U.S. Fish & Wildlife Service to have her with us permanent
ly and were granted special permission to keep her indefinitely. "Ruffles" would remain with Hoo Haven for the rest of her natural life and train to be a member of the Raptor Ambassador Program education team.  She will be among seven other un-releasable raptors who actively teach nearly 4,000 people each year about the importance of wildlife conservation.
Together now for over three years, we have been in daily training. She began with appearances at 'mini-programs' on-site at Hoo Haven for visitors who happen to be around while I was working with her. Our success is based on genuine trust, plenty of patience, and time. We have received specialized training on handling of eagles at the World Bird Sanctuary in St. Louis, MO and have also completed several advanced courses in 2007. Today, Ruffles is a full-fledged member of our Raptor Ambassador Program education team!
---
Ruffles Takes a Bath