---
WE have had 3 Eagles, 6 Great Horned Owls and Hawks brought in in the last 8 Days.
Help us feed them, click on the Eagle above and donate to help us cover the feed and Vet bills for the birds and mamals broght in daily.

---
"Hoo" Haven Open House
Put on your calendar November 6th from 1pm to 4pm.
Come and enjoy chili, cookies and more along with seeing all the wildlife we have and what is going on.
You will hear and see more about this in the upcoming weeks.  Pass it on to your friends and relatives; we hope this will be the biggest yet.
Wear your walking shoes and comfortable clothes.

---
Tours
Saturday and Sunday 11:00 AM

Our tours this year at 2pm Tuesday thru Saturday have been a great success. Now that school will be starting the Tours will now be Saturday and Sunday at 11:00 AM. If you would like any other day, simply call 629-2212 and let us know when you would like to come and we will try and work on making it happen.

We ask that you are 5 minutes early to get registered. Adults are $10 and children under 12 are free.
The tour takes about 1 hour. It is fun and informative.

We like if you ask lots of questions and all tours end up in the "Gift Shop" Gazebo where if you would like to purchase items made only for "Hoo" Haven and donated to us you can. As all of you know 100% of all goes to the care and feeding of the wildlife.
Thank You
Karen


See you at a Tour.
---
Come and Enjoy A Tour
"Hoo" Haven Wildlife and Educational Center specializes in tours for individuals who love wildlife and want to learn more. You will be able to view North American Wildlife and learn about their diets and habitats. The cost is $10 for all over 12 years of age. The tour lasts approximately 1 hour. If you come in the morning you will be able to view special diets being prepared for the variety of mammals and birds we have in house at that time. You will be able to view the pelicans, where they swim and are able to walk around. If you come on a warm sunny day you may catch animals beingwalked around as part of their enrichment. At certain times you may be taken for a walk down to the river on the path where a guide will explain the different kinds of plants you will be seeing. At the end of the tour make sure you don't miss the "Gazebo" Gift Shop where you can purchase items especially made for "Hoo" and 100% of everything goes for the careand feeding of the wildlife.
.A Loon taking advantage of Hoo Havens Aquatic Area.
---
| | |
| --- | --- |
| | Click on the WTVO 17 to the left to see the latest "Hoo" News |
---
"Hoo" Haven and Amazon
Buy and donate all at the same time
Everytime you shop on Amazon, if you will use the following special link: www.smile.amazon.com, Amazon will donate money to Hoo.
You must use this link:  www.smile.amazon.com and  chose "Hoo" Haven as your charitable organization.
It costs you nothing and if you tell a few of your friends,  it helps "Hoo" a lot. 
---
Mo

Larry

Curley
---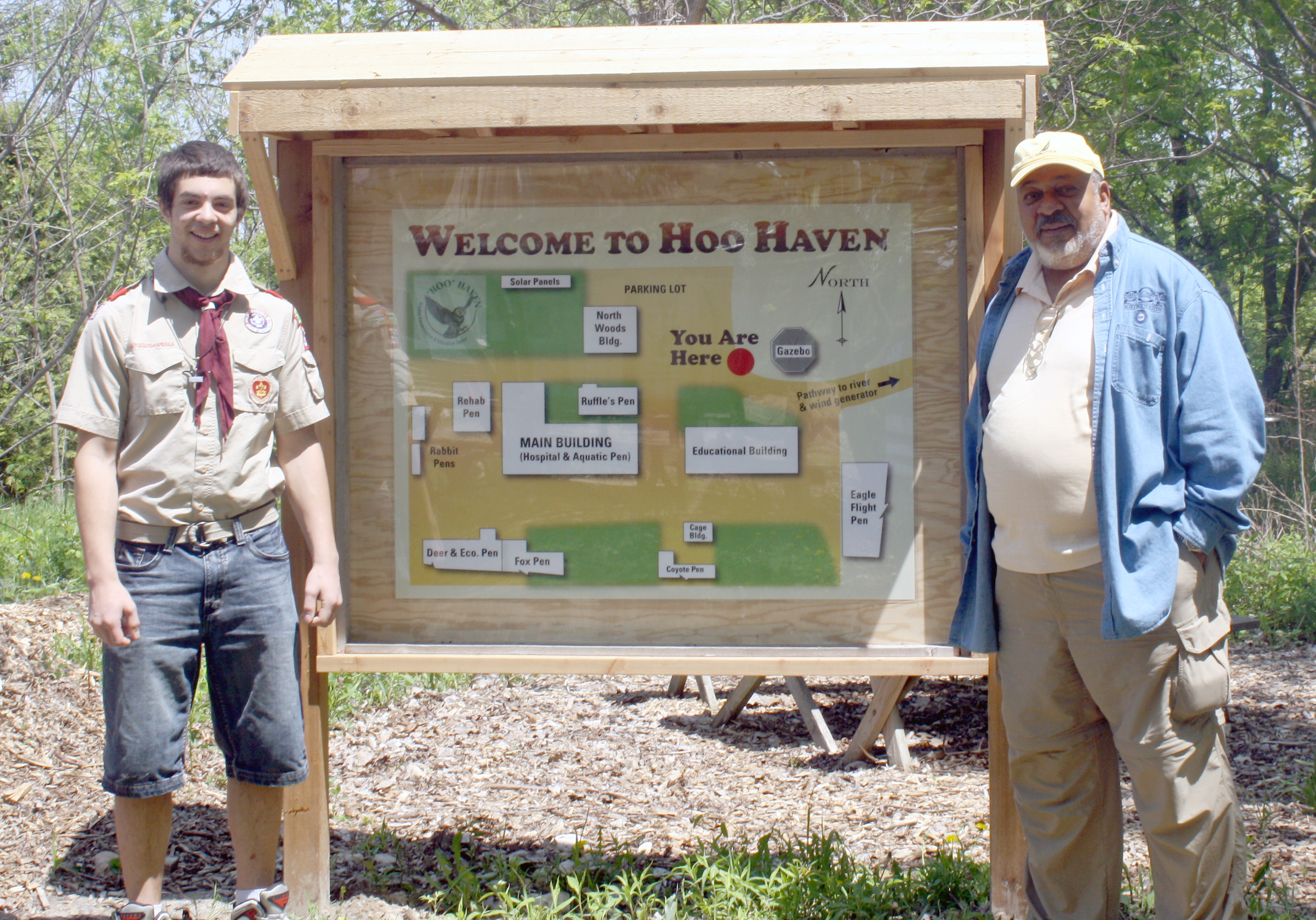 Eagle Scout
Here is Calab Benson and his grandfather Charels. Calab did a great job on his Eagle Scout Project. We now have a map of "Hoo" and all the buildings have signs. He and his grandfather did a great job.
He is from Troop 23.
Great Job.
---